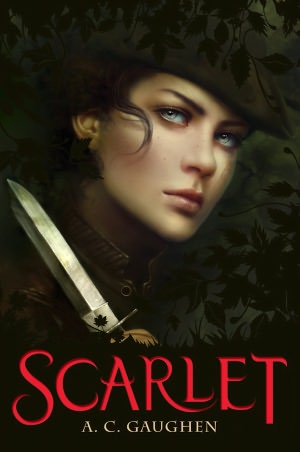 (Cue Rebecca Black music) It's Friday, Friday!!!!!
I just happen to love Fridays! And for this Friday, a book is being spotlighted that I hope you'll love.

Scarlet by A.C. Gaughen came out on Valentines day this year.

So, about the author:


I am shamelessly addicted to staying up far too late (it feels like stealing time), diet coke (it burns so good), Scotland (stupid country stole my heart and won't give it back. Interpol has been ineffective for prosecution) and thieves (so I guess I'm not that mad at Scotland).
And about the book:
Many readers know the tale of Robin Hood, but they will be swept away by this new version full of action, secrets, and romance.
Posing as one of Robin Hood's thieves to avoid the wrath of the evil Thief Taker Lord Gisbourne, Scarlet has kept her identity secret from all of Nottinghamshire. Only the Hood and his band know the truth: the agile thief posing as a whip of a boy is actually a fearless young woman with a secret past. Helping the people of Nottingham outwit the corrupt Sheriff of Nottingham could cost Scarlet her life as Gisbourne closes in.
It's only her fierce loyalty to Robin—whose quick smiles and sharp temper have the rare power to unsettle her—that keeps Scarlet going and makes this fight worth dying for.
Even though it's been out for two days, I haven't gotten my hands on a copy of this book, so if anyone wants to give me one, feel free. I'm looking forward to reading it.
Have a great and productive writing weekend!