Wow! We're already half way through the week. I didn't post last Wednesday, so I'm a bit behind. Get ready.
First up,
Zeke Bartholomew: Superspy!
by Jason Pinter. Great boy read or read aloud for younger sibs. Who doesn't love spies, action, lava, and plots to overthrow the world? The story follows Zeke Bartholomew (go figure) as he is accidentally mistaken for his evil spy kid neighbor. From there he proceeds to fall off a bridge, burn a house down, grapple into a plane, jump out of a plane, and do some dirty work in the towns sewer system. Meanwhile, losing two pairs of jeans. All in all, a fun, lighthearted adventure novel.
Then I read
Replication
by Jill Williamson. Amazing book. It left me thinking, like all truly great books should. After I finished the last page, I had all sorts of questions about what is right and wrong with human tests, stem cell research and cloning. One thing I love about this book is that Mrs. Williamson doesn't force her opinion about these controversial topics onto all her readers. Instead she shows God's love for all his creations and lets the readers draw their own conclusion. Although this book covers some deep and controversial stuff, I really enjoyed Martyr and Abby's story, relationship and (especially) Martyr's introduction to God's love.
Then, I got my hands on a copy of
The Selection
by Kiera Cass. Yippy! This book has only been out for a few weeks and it's already zooming up the bestsellers list. There's a reason for that. My mom (who stole this book from me before I had a chance to read it) call
The Selection
"Hunger Games, Miss America style." I don't now how she intended that to sound, but for me, I just wanted to read it all the more. And I did read it. In one particularly short Saturday. You should read this book.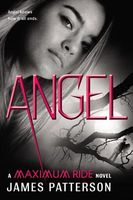 After that, I read the seventh Maximum Ride book,
Angle
by James Patterson. This book wasn't my favorite, but it was still good. I really can't wait read the next one! I've already talked about the Max series in several posts, so if you want, you can read more
here.
And last but not least, I read
City of Lost Souls
by Cassandra Clare. Yes, that's two books off my to-read this in just a few days. This Mortal Interment book made me cry. I've talked about how hard it is for a book to make me cry before. The relationship between Claire and Jace was just as tangled as ever but when you bring in Sebastian, there is no end to the craziness. No end. So yes, this book was a great addition to the series and I can't wait for the next one!
What about you? What books have you read this week? I'd love to hear.
Also, be sure to stop by here again tomorrow for a special surprise! I'm excited and you should be too!