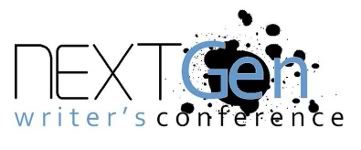 Calling all teen writers everywhere! This August marks the second annual NextGen writers conference! This is a free online writing conference for teen writers. It's put on by published authors to encourage the next generation of writers! I attended the conference last year and it was
fanterrificabulous!
(fantastic/terrific/fabulous) Did I mention it's free and all you need to attend is internet service? I didn't? Well, guess what, it's free and all you need to attend is internet service.
If you're wondering whether or not to go, answer these Qs.
Are you 18 or under?
Are you a writer?
Do you want to get to know other teen writers?
Do you want to experience two days of
fanterrificabulousness?
Do you want to learn more about fiction writing and publishing?
If you answered yes to at least three of those questions, you should head over to to
http://nextgenwriters.com/
right now, or
go right to the registration page
.
And after you do that, you should write up a post similar to this one (or copy and paste this one, I give you permission just this once as long as you link back to me) and post it on all blogs that you have access to. Now.
Am I excited for this? Yes! You. Should. Be. To!!
Also, I'm going on a mission trip and then to camp with my youth group, so you could pray for me. I most likely won't post again until July.