Look at this! Third post this month and it's not even the 10th. You should be so proud of me.
This post is brought to you by
Paper Fury
and
Further Out and Further In
.
ALSO, because Cait from Paper Fury uses GIFs and this post is inspired by her, this post may contain GIFs. And some words in all caps. She's rubbing off on me. Sorry in advance.
Q U E S T I O N S
1. How many years have you been writing? When did you officially consider yourself a 'writer'?
I've been writing for 5ish years. I think I considered myself a writer the during 7th grade. That year I took a creative writing class and that's when I began to get involved in the writing community, specifically when I started reading writing craft books and when I started reading writing blogs.
2. How/why did you start writing?
I started writing because I loved the Eragon books and wanted to be as cool as their author, who was 15 when he wrote the first book.
3. What's your favorite part of writing?
Falling in love with beautiful characters who don't think they're beautiful.
4. What's your biggest writing struggle?
Climaxes and then editing. Editing climaxes is basically torture. I just want to start writing new stories and I CAN'T yet because these other characters need SO much editing.
5. Do you write best at night or day?
My most excited and best writing comes from 9:00AM to 12:00 PM and then again from 7:00 PM to 10:30 PM.
6. What does your writing space look like?
It's a couch in my living room. From it I can see the piano, fireplace, staircase, and some horses if I look out the window. It also happens to be the second best room in the house for hearing every conversation in the house. (Don't tell me family I said that.)
7. How long does it typically take you to write a complete draft?
My record for a first draft is six months. I have yet to complete a Macro Edit aka second draft.
8. How many projects do you work on at once?
ONE! Though I might be plotting one novel while drafting another.
9. Do you prefer writing happy endings, sad ones, or somewhere in between?
<-- Does this answer your question?
10. List a few authors who've influenced your writing journey.
Cara Putman, Stephanie Morrill, Megan Whalen Turner, Christopher Paolini, John Flanagan, Sarah J Maas (most recently) and every other author I've ever read.
11. Do you let people read your writing? Why or why not?
Not really, because I'm bad at editing and don't want anyone to see my less that perfect first and second drafts.
12. What's your ultimate writing goal or dream?
To be JK Rowling. But seriously, to be published as a teen, be well loved as an author, and to help other young writers fulfill their dreams too.
13. If you didn't write, what would you want to do?
I would either find a way to monetize reading novels, or I'd become Olivia Pope.
14. Do you have a book you'd like to write one day but don't feel you're ready to attempt it yet?
Yes. I'll talk most about it in the last question.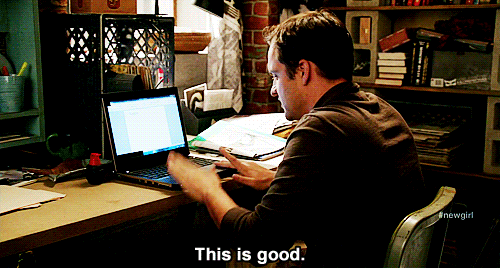 How I feel when I think about VC
15. Which story has your heart and won't let go?
I'm in love this story seed. We'll call it VC. This story is basically Harry Potter meets the TV show Leverage or the Lies of Locke Lamora. Sadly, to tell this story the way it deserves to be told, I'd need to write 7 books and 21 short stories. I'm not in a place in life to commit to something like this. But I love this story. I've written random scenes from random books. I have the 6 MC's names (DID I MENTION THERE ARE 6 MAIN CHARACTERS?) written on notecards and tacked to my bulletin board. I am in love with this idea, but I'm not ready to write it yet.
That's all I've got for the post! Thanks for reading.
If you want to answer some of the questions for yourself, leave your answers in the comments section. Or if you wrote a Beautiful People post this month, leave the link below and I'll read it!
This GIF has no purpose. I just wanted to use it.